November 14, 2014
The Lead with Jake Tapper - CNN
What It's Like Coming Back from a "One-Way Mission"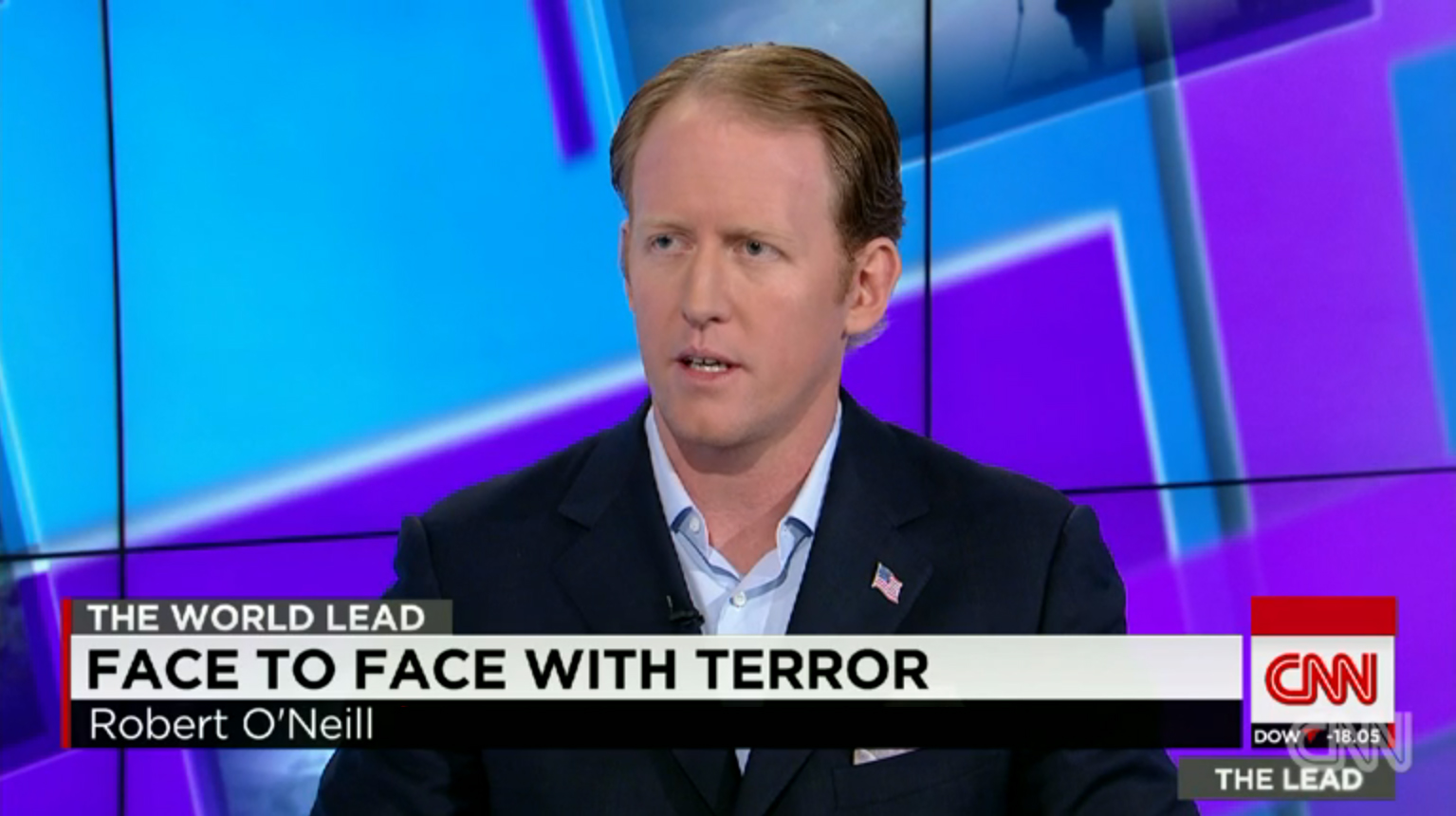 Speaking with CNN's Jake Tapper, O'Neill Explains Why Sharing Story Is "Important Historically."
On November 14, 2014, Ex-SEAL Robert O'Neill appeared as a guest on CNN's weekday television news show, "The Lead with Jake Tapper." During the interview, journalist and news anchor Jake Tapper asks O'Neill what it was like to kill the most-wanted man in the world—Osama bin Laden—as part of a SEAL Team Six raid on the former al Qaeda leader's compound in Pakistan in May 2011.
Beyond describing heart-pounding details of that fateful mission, O'Neill addresses concerns with regard to coming forward.
In sharing his story with the public and the media, O'Neill has faced not only an outpouring of gratitude from Americans (particularly families of 9/11 victims) but also criticism from officials in the highest ranks of the military.
During his interview on "The Lead," O'Neill defends his position for coming forward with "his portion" of the story…
"I think I did this in a way that doesn't violate any tactics or any rules," O'Neill tells Tapper.
O'Neill added that he while he had no intention of discussing his story publicly, things changed dramatically during an encounter this past year at the opening of the 9/11 Memorial Museum.
"I went up to donate a shirt anonymously," said O'Neill. "It was going to be a simple donation. But I walked into a room where there were about 20 9/11 families. I gave an impromptu speech where I talked about it pretty much for the first time. To see the response of these people... Everyone in the room crying, saying it was closure for them…that this helped the healing process."
In response to this very emotional meeting, O'Neill says he came to a realization:
"I thought if I can help this many, I can help more. There are some things I'm not talking about. This I think is so important for the families. It's so important historically."
During "The Lead" interview, O'Neill describes how accomplishing the mission to bring bin Laden to justice and return home alive is nothing short of astonishing.
O'Neill admitted he estimated "about a 90 percent chance that we weren't going to come back," elaborating…
"The house getting blown up, getting shot down, suicide bombers, and then possibly running out of gas" were among the very real threats.
O'Neill noted that it was by chance that he ended up being the one to come face to face with bin Laden. O'Neill says he entered the room thinking to himself, "let's get this over with," fully expecting to be blown up by rigged explosives.
"When we went up" (the stairs), recounts O'Neill, "my thought wasn't of we're about to shoot this guy and be heroes but that we will die if he blows up but he will die too and that is worth it."
Instead, O'Neill immediately identified the target and didn't hesitate. "I shot him twice in the head, he fell on the floor. I shot him one more time, and I killed him," describes O'Neill, matter-of-factly.
Asked by Tapper, "Do you think you're a hero?" O'Neill responds, "I think I was part of a team full of heroes."
Watch: