November 14, 2014
Sean Hannity - FOX News
9/11 Families, First Responders Meet on HANNITY — Open Up on "Closure" and "Healing"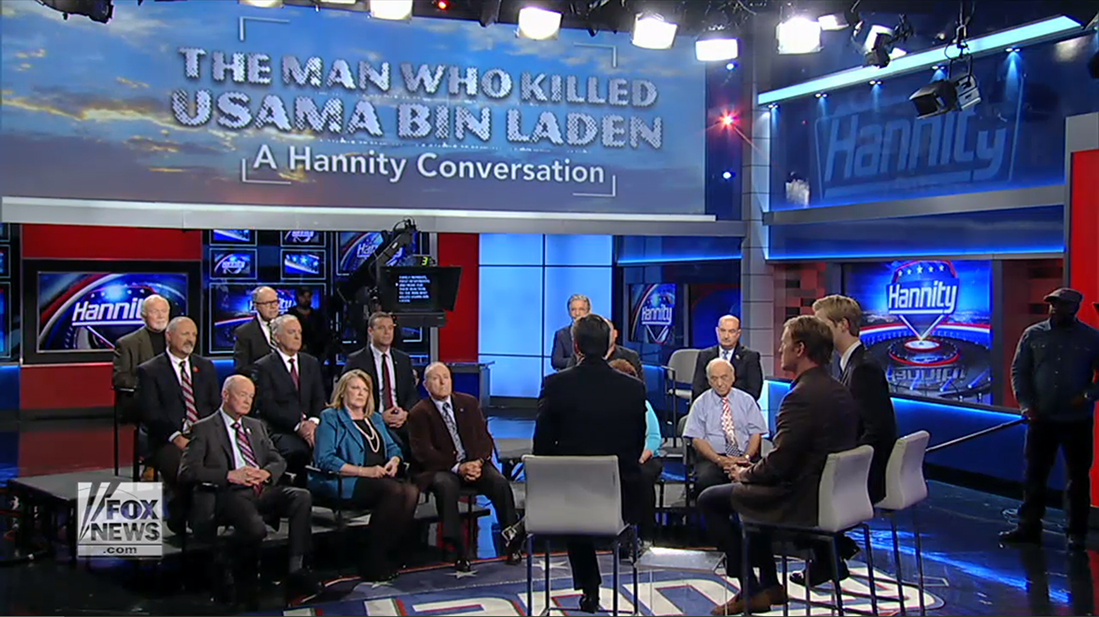 Sean Hannity Hosts a Heartwarming Opportunity for Rob to Speak Directly with 9/11 Families.
Immediately following the airing of the FOX News' two-part documentary, "The Man Who Killed Usama bin Laden," FOX News' Sean Hannity invited 9/11 family members and first responders to appear on his show as part of a live studio audience.
It begins with a famous news clip. Then President George W. Bush, three days after the 9/11 attack on the World Trade Center, stands amidst the rubble next to retired firefighter Bob Beckwith. Over a bullhorn he sends words of thanks, resolve and a mark-my-words pledge:
"I can hear you. The rest of the world hears you. And the people (pause for applause) and the people who knocked these buildings down will hear ALL of us soon."
In the studio audience:
Families of 9/11 victims, first responders and Bob Beckwith (13 years after standing with George W. Bush at Ground Zero). Visible in the back row, FOX News Correspondent, Geraldo Rivera.
Next to Sean Hannity:
Robert J. O'Neill, ex-Navy SEAL (known as the man who shot and killed bin Laden) and FOX News' Peter Doocy (who produced "The Man Who Killed Usama bin Laden," FOX New's most-watched documentary of all time).
Studio audience members who had the opportunity to speak on camera included:
Debra Burlingame (sister of Charles "Chic" Burlingame, a pilot on American Airlines Flight 77 that hit the Pentagon). "My brother was a Naval Academy guy…a fighter pilot for years and reservist. We were thrilled to find out it was the Navy who took him down. We can't get Chic back, but it's so sweet."
O'Neill assures her: "It was an honor, an honor to be picked for that team and that team to be picked. There are so many great people in the military that could have done the same thing we did. We were fortunate to be there."
We also hear from…
Lee Ielpi (a retired firefighter, Vietnam veteran and father of Jonathan Ielpi, late NYC firefighter):
He recounts how his son (who was married with two sons) "died doing what he loved." In his exchange with Mr. O'Neill, Mr. Ielpi asks… "Are you concerned that you stepped over that boundary of silence…of the consequences that could jeopardize other missions?"
O'Neill's response: "First, I want to thank you for your service. Vietnam veterans are the reason that we as veterans are treated so well, because you were not. Second, I think I went about this the right way as far as being sensitive to what the Department of Defense wants to hear and does not want to hear. I don't think I have violated any tactics or put anyone in danger. I hope they see the good that comes out of this."
Keeping the focus on 9/11…
This leads O'Neill to explain how his desire to speak stems from "going to the 9/11 Memorial & Museum and seeing the positive effects and the closure that was given to the families. I am willing to assume the risks because it is worth it."
Hannity poles the audience to see if they agree. Hands are raised, and Maureen Santora (who lost 23-year-old son Christopher, a NYC firefighter) clarifies:
"There's never any closure, but what it does is put another piece in our healing. And it's a very big piece."
"Greatest moment" from Geraldo Rivera
Though he takes a back seat in the studio audience, FOX News correspondent Geraldo Rivera joins in the discussion. As it turns out, he was on the air live in May 2011 when the announcement came that bin Laden had been shot and killed.
His words to O'Neill: "I am so honored to be in the room with this man. What he did was to not only bring closure to the families, God bless them, but to the whole nation, to the free world. This monster had declared war on civilization itself, and to bring justice…I honor you."
Remarkably, Rivera calls being able to cover the story live on the air that bin Laden had been shot and killed "the greatest moment in the 44 years I've been on television."
Watch: