November 18, 2014
The Five - FOX News
Rob Talks Everything from Terrorist Targets and Valuable Intel, to Free Drinks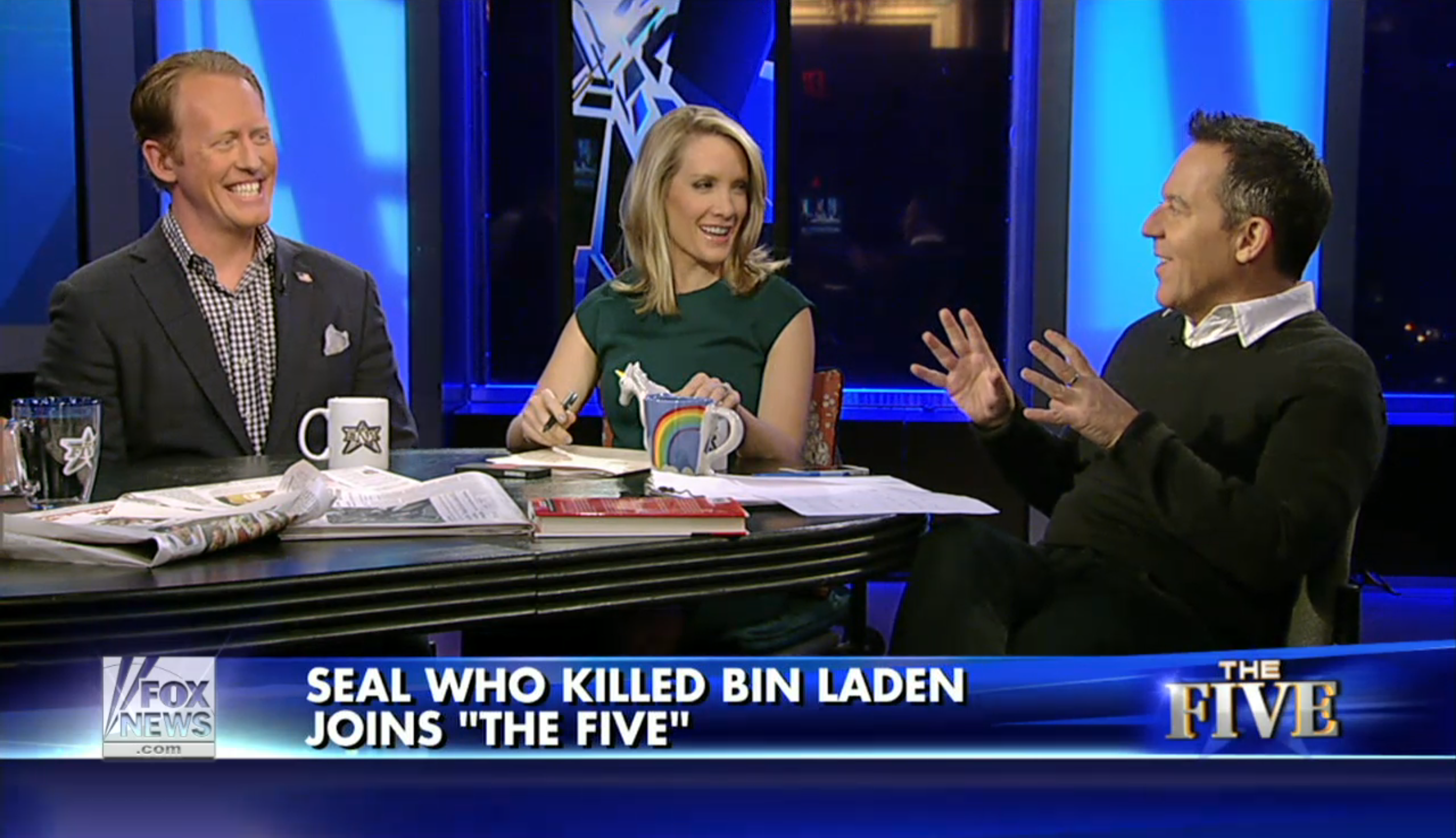 The Five Asks Rob About Conspiracy Theories Surrounding bin Laden's Death and More.
During his recent appearance on FOX News' nightly show 'The Five,' Robert O'Neill faced a firing squad of questions from the handful of hosts — all in good humor. Their curiosity ranged from O'Neill's taste in beverages and bands…to insight obtained in the bin Laden compound raid…to the most threatening terrorists today, and who most deserves to face justice for their actions. Eric Bolling opens by acknowledging "we don't often have guests," but it's an honor to welcome the man who killed Osama bin Laden, retired Navy SEAL Robert O'Neill."
Each member of The Five gets to ask Rob a burning question or two…
#1 — ERIC BOLLING GETS IT ROLLING
Bolling: "We see ISIS with the beheadings. We're seeing it on camera. We've never seen the picture of Osama bin Laden dead. Should we?"
O'Neill: "No, I don't think we should because it would just bring unnecessary anger. Even though they are already angry at us, it's kind of poking the bear. I'm able to say he was shot and killed. I assure you."
Bolling also hits O'Neill with the hypothetical thought of who would be his next target if he had his way…
O'Neill: "Well, it wouldn't be me. It would be other great warriors out there. But, yes, Baghdadi (from ISIS). When we put boots on the ground, I'm sure they'll send guys for him." O'Neill also adds how much he would be like to put an end to the heinous actions of Jihadi John (the alleged British national turned Islamic radical claiming responsibility for the beheadings of James Foley, Steven Sotloff, David Haines, Alan Henning and Peter Kassig). "I guarantee he's not as tough when someone's hands aren't tied behind their back," remarks O'Neill.
#2 — BOB BECKEL TRIES TO STIR THE POT
Beckel: "Do you think they really buried this guy (bin Laden) at sea?"
O'Neill: "Oh, they did."
Beckel: "Were you there?"
O'Neill: "No, I was not."
Beckel: "Oh. Hum…"
#3 — KIMBERLY GUILFOYLE QUESTIONS INTEL
Guilfoyle: "Bob has some conspiracy theories. I actually wanted to talk to you about the intelligence gathering. You've pointed out that there was a large cache of information that you wanted to retrieve from the scene. Was there anything you considered to be the most significant, and, in fact, was there a personal journal recovered from Osama bin Laden?
O'Neill: I didn't see a journal. I don't know if they found that. It would have been good stuff. I know it was a treasure trove we found there. I wish we could have had more time. I wish we could have gotten everything out of there because I think we could have done a lot more damage to al Qaeda than we did, even though we did quite a bit of damage to them that night."
#4 — GREG GUTFELD DOESN'T LOSE SENSE OF HUMOR
In true wisecracker fashion, he poses questions to Rob, such as:
Gutfeld: "For the purpose of future generosity: What is your favorite drink? Because I assume that wherever you go, you're never going to pay for another."
O'Neill: "My favorite drink is Lagavulin."
Gutfeld: Jestingly, he begs the question, "Technically, you don't have to do anything for the rest of your life because you've done something so wonderful for this country. When you've done something so great, where do you go next?"
O'Neill: "After I killed Osama bin Laden I got out of the Navy at about 16 ½ years. I was honorably discharged, and that was difficult because there's nothing really there for you. There's no pension. What I've done in the last two years with colleagues of mine is start a foundation (YourGratefulNation.org). We help vets with the transition through grants…we're actually looking for employment opportunities for them that don't involve carrying a gun, because a lot of them don't want to carry guns anymore."
#5 — DANA PERINO PONDERS HOMETOWN SUPPORT, SAFETY
Perino: "We're both from small-town America. Mainstream media coverage usually takes place in New York, Washington, DC and Los Angeles. The rest of America kind of gets ignored. Curious what kind of reception you've received from Butte, Montana.
O'Neill: "Butte, Montana is a great town. They were concerned at first because they're not used to being a part of it, and their first concern is, 'How about the safety?' I had an article written for the hometown paper. I let them know…there are more spectacular targets in the country than Butte, Montana, but it's time to be vigilant."
Watch: