Former Sniper-SEAL Talks Sydney Hostage Scene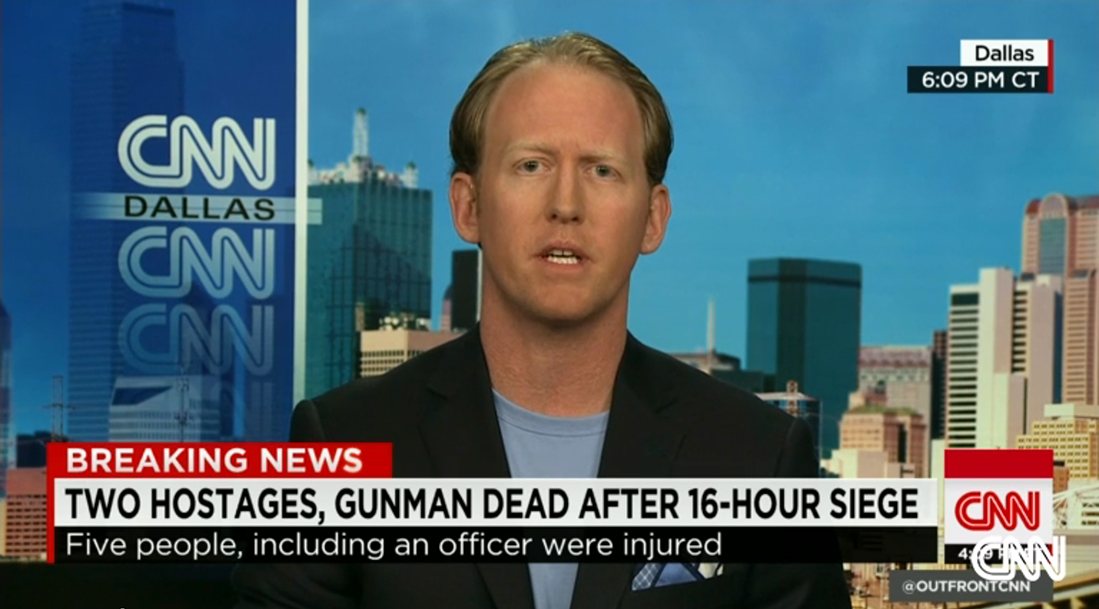 O'Neill Offers His Take How Police Handled Explosive Siege.
It began like any other Monday morning at the Lindt Chocolate Cafe in Sydney's city center — until a man sitting at a table with a tea and slice of chocolate cake asked to speak with the manager. He wasn't there to linger over breakfast. He was biding his time until the moment was right.
The man (a self-proclaimed Shiite cleric and Iranian-born Australian citizen named Man Haron Monis) had been hiding a sawed-off pump-action shotgun in his backpack. He ordered the manager to lock down the shop and forced his hostages to hold a black flag printed with the Shahada, a profession of Islamic faith, in one of the windows. This scene became a widely televised image across the world. He held his 18 hostages for more than 16 hours, until heavily armed police from the tactical operations stormed the cafe, tossing in flashbang grenades before opening fire on their target. The hostage taker was hit several times and killed.
Chaotic reaction or controlled response?
To some, the raid looked like chaos. From what Rob O'Neill could assess — as he shares in a live on-air interview with CNN's Erin Burnett — it seemed well-executed, given his vantage point.
A former Navy SEAL and highly trained sniper, Rob has first-hand experience in highly tense hostage situations. Among his more than 400 military missions: rescuing Captain Richard Phillips of the Maersk Alabama, who, in 2009, was held at gunpoint by Somali pirates aboard a lifeboat adrift in the Indian Ocean.
Some Q&As from O'Neill and Burnett's on-air exchange:
Burnett: "When you look at the video of the raid, was it done as you would have done it?"
O'Neill: "It's difficult to say looking at one video, one position, looking at one group of guys. It appears pretty obvious something happened that needed to be responded to very quickly. It looks to me that the police officers and special forces responded correctly."
Burnett: "It was a 16-hour siege. How do they make the decision to go in? The mayor was saying 'There was a catalyst,' which was a 34-year-man was shot."
O'Neill: "They did have the building surrounded. I'm guessing what they were trying to do was negotiate with the hostage taker. I'm sure there were a lot of different options, different methods of entry being considered. I'm sure they were narrowing it down to the best possible ways to rescue and that first on their mind was to end it without gunfire and take the hostage taker alive."
As we see from the video footage, a peaceful resolution it was not. Rescue forces are forced to open fire…
"It appears with the grenades being thrown in and the brief controlled chaos that something happened and they needed to react," states O'Neill, adding, "Speed becomes the essence once the chaos takes off."
Caught in the crossfire.
Horrifically, that "something" that forced police and special ops to storm the shop was the hostage taker forcing 34-year-old store manager Tori Johnson onto his knees and fatally shooting him in the head. A mother of three and a successful lawyer, Katrina Dawson was also fatally shot, tragically from the ricochet of police bullets. How this hostage rescue raid played out illustrates that despite the best efforts of the most highly trained tactical response teams, innocent people can be caught in the crossfire, even inadvertently.
Watch the full interview here.