February 16, 2015
FOX & Friends - FOX News
With ISIS In Iraq "Bearing Down" On U.S. Marines, What Now?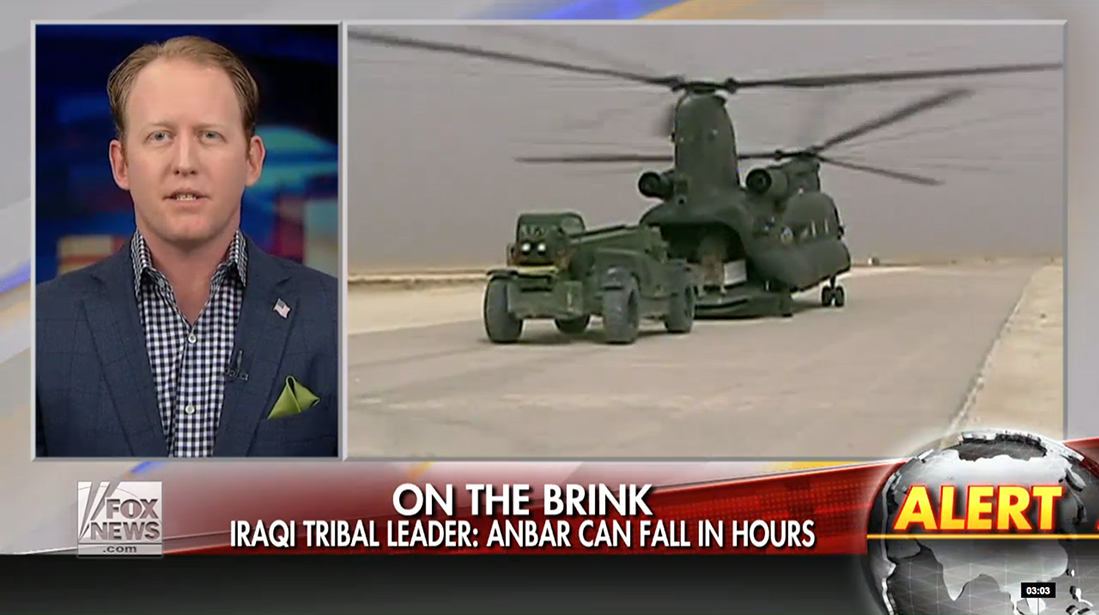 "Let Our Marines Step Up To ISIS," Urges O'Neill.
With alerts that ISIS is closing in on one of the largest U.S. military bases in Iraq (al-Asad air base), Americans are starting to seriously wonder whether our hard-fought gains in that war-torn country are slipping away.
FOX & Friends co-anchor Steve Doocy is covering the story closely and invited ex-Navy SEAL Rob O'Neill to share his insights as a former soldier who fought on the ground in that very region, known as Anbar province.
Doocy leads with threatening information that "hundreds of ISIS fighters are taking over the city of al-Baghdadi" — just five miles from where Marines are stationed at the al-Asad air base.
Highlights of their exchange:
Doocy: "ISIS is bearing down on our Marines. Now's the time for the President to call up whom and say go do what?"
O'Neill: "They could call a number of forces there. I think as long as there are U.S. Marines, some 320 at al-Asad air base…the fact that they could land a C-17 transport plane there and bring more in. That's exactly what the Marines are looking for. ISIS is nearby — some five miles away — and our Marines are designed to fight an army. Given the chance to let our Marines step up to ISIS, it shouldn't take more than a couple of days."
"ISIS is nearby — some five miles away — and our Marines are designed to fight an army."
Doocy: "You have fought in Anbar province. In fact you fought these same guys when they were called something else (al-Qaeda)."
[As it turns out, O'Neill took part in ground force missions, stationed out of al-Asad air base, from early winter 2006 through late summer 2007.]
O'Neill: "We eventually with help from U.S. forces had what's called 'the awakening' where we taught the Sunni tribes to help us fight the Sunni extremists and help root them out. We were on kill and capture missions pretty much every night, and it was not difficult to fight these guys."
"We were on kill and capture missions pretty much every night, and it was not difficult to fight these guys."
Doocy: "When we leave, those Sunni tribes are toast, because ISIS is going to go back and say, 'Hey you guys were helping the Americans'."
O'Neill: "That's why we have Sunni on Sunni violence going on. The friendly Sunni villages and tribes are asking for U.S. assistance, almost to the point of, 'We helped you, what kind of a friend would leave us?' We should definitely have our guys out there…on the ground. We need real-time intelligence so we can actively target ISIS and root them out."
Doocy: "ISIS is five miles away from the air base where we have the Marines. As long as we're there, you feel that's going to be held. If we leave, ISIS takes the quick road to Baghdad, don't they?"
O'Neill: That's correct. We do have Marines there, mainly trainers and advisers, however all Marines are riflemen. As long as we have armed forces there we'll have the capability with our armed drones and our apache gunships to assist. If we do decide to back out of al-Asad, it's my belief that ISIS will overrun that air base. From there, it's a launching pad right into the capital of Baghdad."
Watch: