March 22, 2015
FOX & Friends - FOX News
Yemen: 'Model' City and U.S. Ally on the Brink of Civil War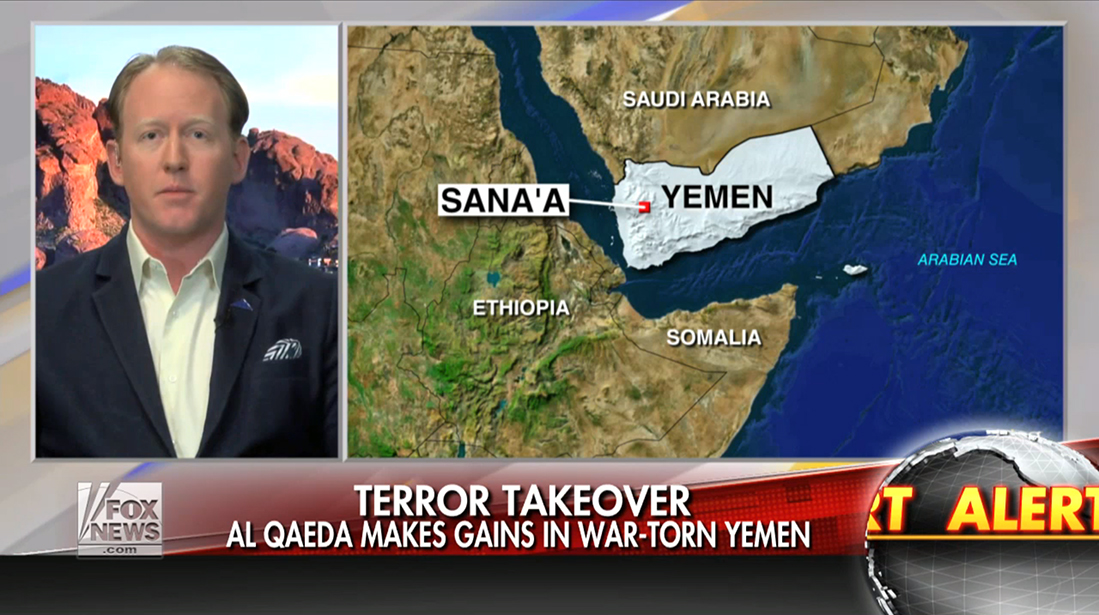 O'Neill Offers Insight on Chaos As All U.S. Forces Pull Out.
With U.S. forces completely withdrawing from the nation of Yemen and Shiite rebels, the Houthis, now taking control of Yemen's third largest city, the likelihood of civil war in that region looks all but inevitable.
The U.S. State Department's official response: "We will continue to engage the Yemeni people and the international community to strongly support Yemen's political transition."
A vague message?
FOX News' Tucker Carlson thinks so, admitting on last Sunday's FOX & Friends that he's "not clear at all what exactly that means."
Along with co-hosts Anna Kooiman and former U.S. Senator and FOX News contributor Scott Brown, Tucker asks former Navy SEAL Rob O'Neill for a military perspective.
Carlson: "Yemen is a key ally of ours in the war on terror. Apparently, the U.S. government stood by idly as that government, our ally, was overthrown. Should we have let it get overthrown?"
O'Neill: "That's tough to call, because we have limited forces there. I think it was overrun so quickly by the Shiite rebels that they needed to take some kind of a pause and back out. Once it kind of went amuck, it seems we needed to rethink what's going on. It's very apparent with al-Qaeda in the Arabian Peninsula (AQAP)…the Houthi shia militia coming in and out…ISIS showing their muscle there as well. There's going to be a lot of chaos. This definitely needs to be addressed."
Kooiman: "Is this just a microcosm of what we're seeing as it relates to this administration's policy in that region? Wasn't it but six months ago that President Obama said Yemen is this model for the way we should be handling things? And look at it now."
"We're dealing with jihad."
O'Neill: "They did say it was a model but…that's a tough one to say because they (Yemen) only became legitimate in 1990 and civil war before that and now they're going to break back into civil war. Part of this will come with the identification of the problem that's going on now. These rebel groups, Shia and Sunni included, they're sort of looking for the caliphate. ISIS recognizing no borders. Al-Qaeda, that's their strong training ground. We're dealing with jihad."
Brown: "The administration should have known there was going to be an onslaught coming. They should have had the time to react a little bit quicker. It seems like there's no foresight at all leading up to what in fact happened."
O'Neill: "Speaking with some of my former colleagues, there's a lot of frustration with 'What's the plan? What are we going to do to counter all of this?' Obviously, it's tough in Yemen. You don't want to put a bunch of forces in there to be seen as invaders or occupiers once again."
Even so, O'Neill warns…
"When you see this huge threat coming… We definitely need a coalition, especially with Saudi Arabia because be it Sunni or Shia, ISIS or al-Qaeda, or these Iranian-backed rebels, none of them like Saudi Arabia either, so we need to really use them in this."
Watch: