March 25, 2015
HANNITY - FOX News
Army Charges Bergdahl with Desertion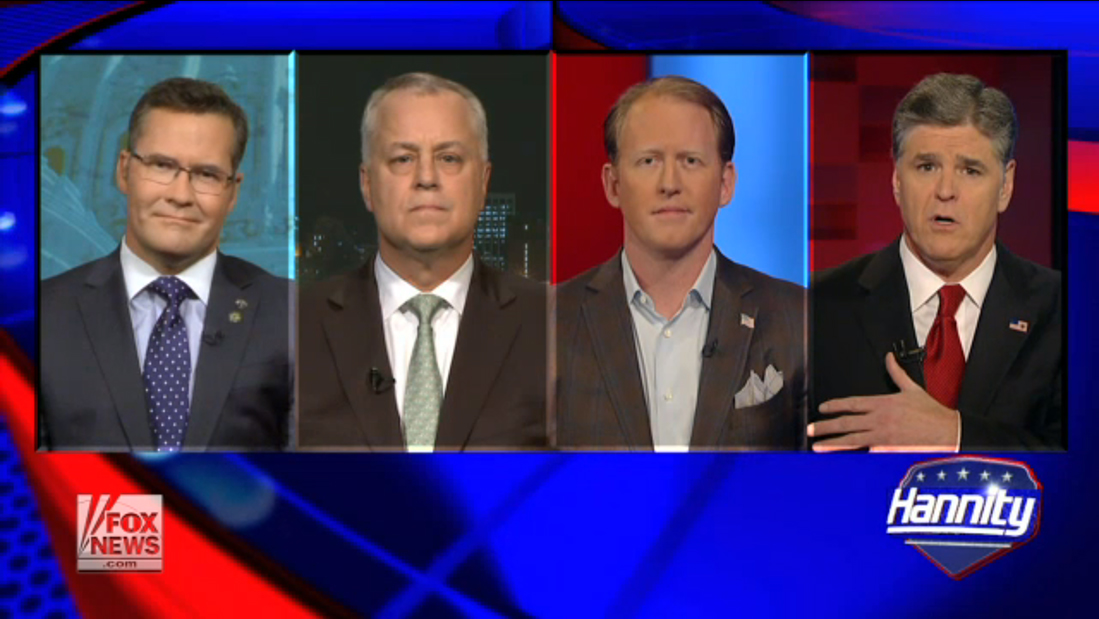 Military Panel Reacts to Bold Decision.
In May 2014, President Obama called for the release of former U.S. Army Sergeant Robert Bowdrie "Bowe" Bergdahl, after nearly five years of captivity in Afghanistan. His freedom came at a steep price: the release of five high-ranking Taliban prisoners from Guantanamo Bay.
The Administration vehemently defended its decision, calling Bergdahl "a hero, a fellow American." Yet for many Americans, the question has lingered:
Shouldn't Bergdahl be held accountable for deserting his unit and abandoning his post?
Finally, that question has been answered. Bergdahl's legal defense shot down an offer of a plea bargain, forcing him to appear before a military court of law.
Joining Sean Hannity on the HANNITY show for reaction to the Army's decision:
#1: Lt. Colonel Michael G. Waltz, author of Warrior Diplomat and former Commander of Special Forces in Afghanistan who led the search for Bergdahl
#2: Retired Brigadier General A.J. (Tony) Tata and best-selling author of Foreign and Domestic
#3: Former Navy SEAL Robert J. O'Neill, who took part in rescue missions to find Bergdahl
Highlights from their exchange:
Hannity: "Colonel Waltz, you were part of the search for Bergdahl. I know we lost at least six soldiers. How many others were injured in the search for them?"
"Soldiers died looking for him. Much more difficult to quantify are the number of soldiers and Marines that didn't have what they needed…"
Lt. Colonel Waltz: "First of all, I refuse to call him Sergeant Bergdahl. He was promoted in absentia because he was incorrectly classified as a POW rather than a deserter. Secondly, I'd like to commend the Army for taking this bold move. Soldiers died looking for him. Much more difficult to quantify are the number of soldiers and Marines that didn't have what they needed: helicopters, predator drones, supplies because they were all diverted to search for Bergdahl."
Hannity: "Why would they (the Administration) put those men at risk, similarly the rest of the country at risk by releasing the Gitmo terrorists?"
"Those five were the ones the Taliban chose, not that we chose. They essentially got their top five draft picks."
Retired Brigadier General Tata: "What they released is essentially the general staff of the Taliban. The intelligence operator, the operations officer, the communications officer and the political officer... It's very hard to develop that talent within an enemy force. I just want to say General Mark Milley (Army Forces Commander charged with making a decision on Bergdahl) showed great fortitude in the face of tremendous pressure. The court-martial decision is the right decision."
To that point…Lt. Colonel Waltz adds:
"Those five were the ones the Taliban chose, not that we chose. They essentially got their top five draft picks."
Hannity: "Rob, you were telling me before we got on the air that you were even involved in this."
"When he walked off the base, we were instantly given the intelligence. We have a deserter, try to get him back. We stopped everything."
O'Neill: "We were on the forward operating base in the Paktika Province called Sharana. He (Bergdahl) was sort of on that base, at an operation post just outside called Mesk. We were conducting mainly kill-capture operations against high-value targets, al-Qaeda, Taliban and vehicle interdictions as well. When he walked off the base, we were instantly given the intelligence. We have a deserter, try to get him back. We stopped everything. The war stopped from the very highest levels of operations down to conventional forces and we started hunting him. My team and I went on I think 20 rescue operations to find this guy."
Hannity: "What should the penalty be? Should he get life?"
O'Neill: "No, he shouldn't get life. I'm happy with the decision today because they admitted, OK, he deserted. I know this guy realized very soon he made the wrong decision. He was abused. That needs to be considered."
Lt. Colonel Waltz: "The men and women who aren't coming home, who died looking for him or because they didn't have the assets they needed…they're dead, so I think he should get life."
Watch: