May 06, 2015
FOX & Friends - FOX News
Terror Threat in Garland, Texas Only the Beginning?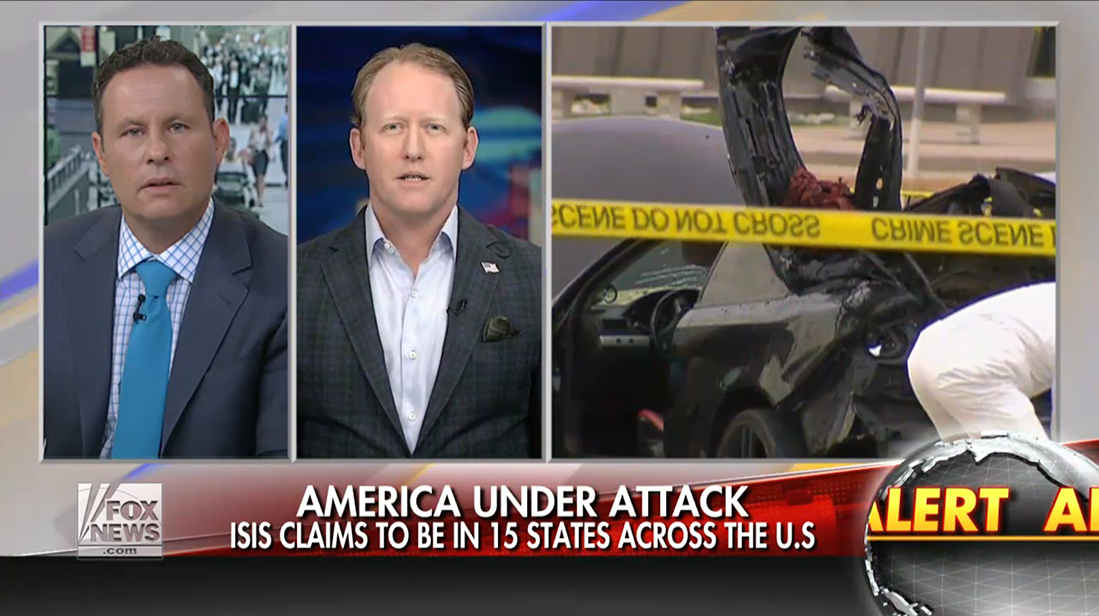 Rob O'Neill Responds to ISIS Claims of More U.S. Attacks.
It could have been catastrophic — the terror that unfolded at a Mohammed cartoon drawing contest held in Garland, Texas.
Granted, the event was provocative, but it was, as they say, representative of our First Amendment right to free speech and expression. Elton Simpson and Nadir Soofi, two heavily armed men who traveled from Phoenix, Arizona with murder in mind, didn't see it that way. They were there to make a statement, too. Fortunately, law enforcement officers were able to intervene, fatally wounding them before innocent lives were lost.
Now the question remains: Was this a "lone wolf" incident — or a planned attack set in motion by ISIS? The terrorist organization is not only taking credit for the recent event in Garland, Texas, but they're also promising more attacks on U.S. soil in the next six months, spanning 15 states.
Is the incident in Garland, Texas only the beginning?
During a recent appearance on FOX News FOX & Friends, former Navy SEAL Robert J. O'Neill shared his take on such threats in an exchange with news anchor Brian Kilmeade.
Kilmeade: "Rob, your reaction to their saying they have 71 trained soldiers in 15 different states?"
O'Neill: "The reaction I have is that they're telling the truth. ISIS is so popular now because they're over there with this glorified sense of resilience because no one is fighting them. They can make all these videos. People can watch them, and there's a lot of sympathy for ISIS is this country."
"ISIS is so popular now because they're over there with this glorified sense of resilience because no one is fighting them."
With regard to targeting such terrorists…
"It would take about 25 people working around the clock just to track one of these people, so it's very difficult even though the FBI is doing a great job."
Speaking specifically on the attack in Garland, Texas…
Kilmeade: "Two men show up wearing AK-47s in a car. They get to the perimeter and they're taken out because that place was bulked up knowing there would be some kind of security threat. Your thoughts on other people who might not have that security to layer them."
O'Neill: "They need to get the security. This is the difference between a gun-free zone and Texas. If these two guys would have gotten into that building it would have been Charlie Hebdo times 10. Fortunately, these guys showed up because they were offended by something protected by the First Amendment and they were quickly introduced to the Second Amendment."
"If these two guys would have gotten into that building it would have been Charlie Hebdo times 10."
Kilmeade: "What's your opinion when people like Bill O'Reilly and Donald Trump come out and say you should be smarter. You shouldn't have conferences like these (about drawing pictures of Mohammed), and others who say it's all about free speech…I don't care what takes place, you have the right to do it."
O'Neill: "It is protected by free speech, but I think you do need to be smart. There's no reason to insult so many millions of Muslims that are our allies (like Saudi Arabia and Jordan). Yes, you can do it, but I don't see a reason to offend people for no reason."
Watch More of the Discussion: