June 18, 2015
Fox & Friends — FOX News
New York Times Launches War of Words Against U.S. Navy SEALs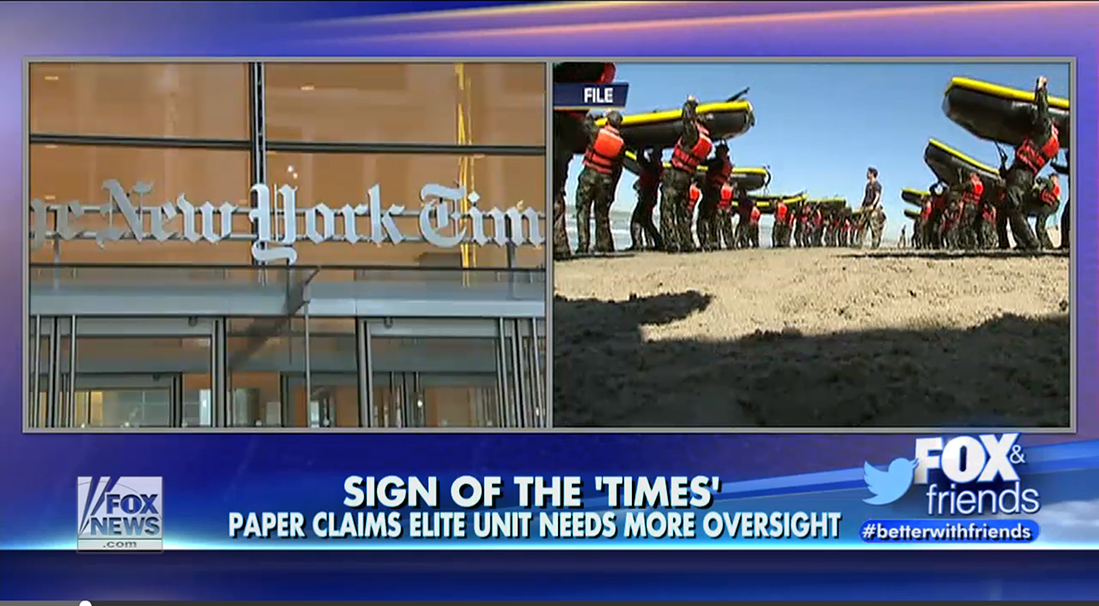 O'Neill Defends Military Unit as Precise, Highly Trained Pros.
In the eyes of most Americans, U.S. military personnel such as the Navy SEALs are brave warriors, heroes in fact.
In the words of a New York Times' writing team, whose recently released article is generating buzz, SEAL Team 6 — one of the nation's "most secretive and least scrutinized" organizations — has been converted into "global manhunting machine with limited outside oversight."
The article goes so far as to imply the SEALs are centrally involved in "excessive killing and civilian deaths."
Fox & Friends' anchor Steve Doocy invited former SEAL Team 6 member Robert O'Neill to comment on the New York Times "hit piece" and distinguish fact from fiction.
Highlights from their exchange:
Doocy: "According to the New York Times, despite what I've seen on TV and in the movies and read, SEAL Team 6 is a bunch of bad guys."
O'Neill: "I read that piece, too. The New York Times has an agenda. They're pretty much anti war. To say a 'global manhunting machine,' that's not actually an insult because SEAL Team 6 is capable of doing that. There's nothing wrong with our enemies realizing that no matter where they are we have a great group of guys — the best in the world — that can go anywhere and get them."
Doocy: "It's a very lengthy report. Here's one of the quotes, 'SEAL Team 6 has successfully carried out thousands of dangerous raids that military leaders credit with weakening militant networks…but its activities have also spurred recurring concerns about excessive killing and civilian deaths'. They talk about…because nobody's watching you… your killing people by accident and beheading people."
O'Neill: "SEAL Team 6 is a hostage rescue team, a very precise group of operators. We did kill a lot of people in a couple of different theaters, but that's how you win a war. You kill the enemy. As far as the beheading stuff…that's ridiculous. We are the good guys. Maybe we didn't kill people nice enough for the New York Times. We go out of our way to make sure nobody innocent is hurt."
Doocy: "Here's another quote from the Times, Rob, and I want you to explain about the hatchets…'The hatchets were not just wall ornaments. Several former SEAL Team 6 members said some men carried the hatchets on their missions and at least one killed an enemy fighter with the weapon'."
O'Neill: "Climbing the mountains of Afghanistan…I certainly wouldn't waste weight on a tomahawk. I personally didn't carry one. I didn't see anyone carry one. If guys did…I doubt they would…as far as killing someone with a blade, when you're close in with them, it's a weapon…it's war."
Watch the Segment Here: