August 24, 2015
FOX News Alert — FOX News
O'Neill Struck by "Guts" and "Humility" of Americans on Train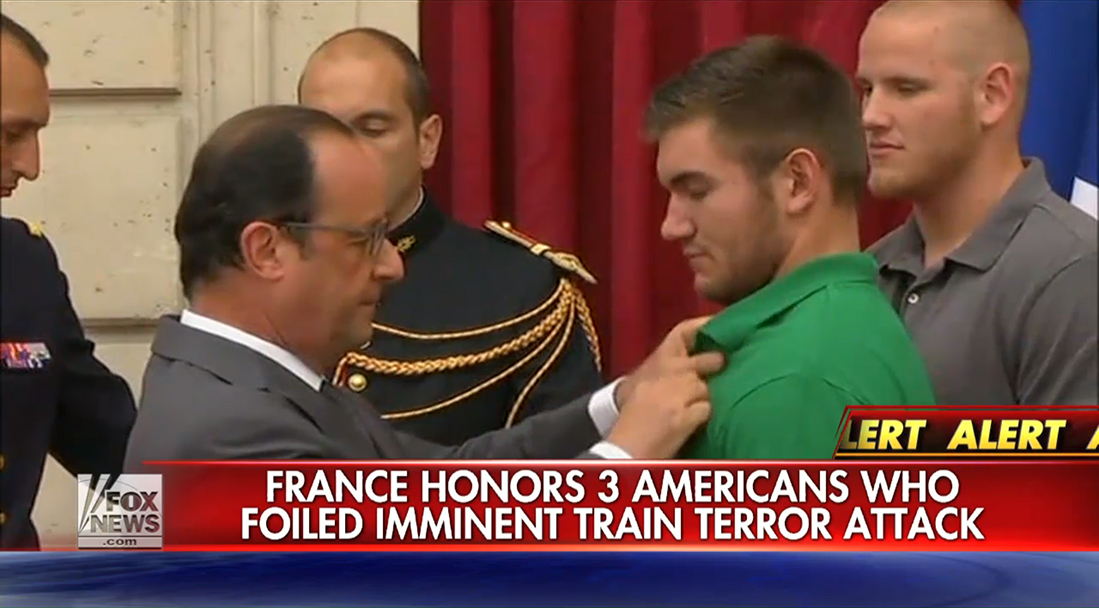 "It was awesome. I'm really proud of them."
Destroying lives isn't enough for ISIS. Now we see that they're targeting, brick, mortar and symbols of "idolatry" as explained by Rob O'Neill in a recent FOX News interview with anchor Leland Vittert. A prime example: the choice by ISIS to invade the ancient city of Palmyra, Syria and blow up treasured Roman ruins. Of course they filmed the event, and based on O'Neill's analysis, you can be sure the footage is being used in their social media recruitment efforts.
It's hard not to feel that ISIS is handily winning the fight in the Middle East, making the events that happened on the Paris-bound train a story embraced worldwide.
Three unarmed Americans—Anthony Sadler, Alek Skarlatos and Spencer Stone—took down an AK-47-equipped terrorist with ties to ISIS, preventing surefire catastrophe aboard the train.
During his interview with Vittert, O'Neill praised these three gentlemen, saying: "I was fortunate enough whenever I had an AK-47 shot at me, I had a gun, too. These guys didn't have guns. They were on holiday and they were taking naps. Just the instinct of fight or flight. We want to live, we're going to get through this…eliminate the threat, let's roll…like Todd Beamer on Flight 93."
Asked by Vittert what struck him the most when we watched the subsequent press conferences, O'Neill relays, "their humility" and "guts," adding, "It was awesome. I'm really proud of them."
Watch the Segment Starting at 2:10 Here: