July 28, 2016
Good Day LA — FOX 11
It's Always a Good Day When You Can Help Fellow Veterans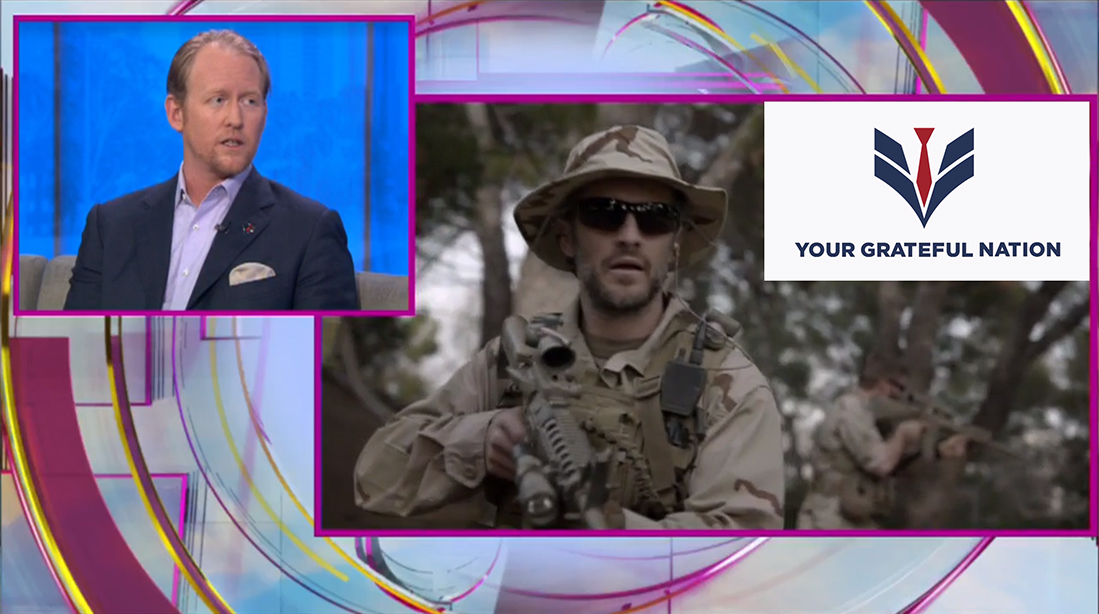 Rob Appears on FOX 11 Los Angeles — Topics Include Critics, Politics and Fighting for Your Grateful Nation.
Among the many topics of discussion at the Democratic National Convention: the raid on Osama bin Laden's compound in Pakistan five years ago. That "big call" decision was, of course, greenlighted by President Obama.
Former Navy SEAL Rob O'Neill admitted he was the man who actually killed bin Laden. For that, he's taken criticism. Despite the verbal assaults, O'Neill tells Steve Edwards, host of FOX 11 Los Angeles, it doesn't bother him.
O'Neill: "It seems that the naysayers always have the loudest voices. And it wasn't myself who put my name out there. My name was put out there. Before we landed in Virginia Beach, people on both coasts knew who it was because the first question people asked was 'who did it?'"
[Edwards and cohosts ask Rob to take them through the moment when he ascended the stairs to the top floor of the compound and came face to face with bin Laden …]
Edwards: "Was it a shocking moment?"
O'Neill: "No. He's taller than I thought, skinnier than I thought. His beard is shorter and gray. That's his nose. That's him. He's not surrendering. He's definitely a threat. He needs to be taken out. I took him out."
Edwards: "You are Mr. Matter of Fact. You're talking about an immense moment in history…"
O'Neill: "It is matter of fact, because of the team I was with. Everyone there was the best person I had known."
Edwards: "But you say over and over again that on several missions…this was one of them…you don't expect to come back."
O'Neill: "This one definitely. We thought we get killed, get captured and stay there in Pakistan."
Edwards: "Are you under threat?"
O'Neill: "Possibly. I'm aware of it. I have stuff in place, but I've dealt with these people before. I think it would be complacent for Americans to think, 'well he's just a threat.' Everyone here is a threat. They hate all of us. We're all in this together."
Edwards: "Why are you here?"
O'Neill: "I'm here because we are raising awareness for my foundation: Your Grateful Nation. I got out of the Navy just after 16 years, so I didn't get a pension. You need to do 20 years to get a pension. This is the most sustained amount of time for combat this nation has even been in. A lot of these people that serve for 16, 15 years do 10 combat deployments. They don't want to do another seven just to get a pension. We find out what that special operator wants to do, then we'll find a company that can mentor them. When they get out, they get a project managerial job or even higher than that."
[Rob discusses the dangers of staying in combat too long…]
O'Neill: "I went to combat…one more deployment after the bin Laden raid…and I remember the last mission I was on. We were in a gunfight and there was no adrenaline. It was…maybe it's time to get out."
[Cameras are turned to Rob's father Tom who's standing backstage…]
Edwards: "By the way your father's here. Dad, were you an adrenaline junkie, too?"
O'Neill (Tom): "Not too much of an adrenaline junkie. Watching Rob go away to war. I have good sports analogy. Sometimes it's easier to be in the sport than to watch it. That's the sensation I had."
O'Neill: "He's exactly right. It's easier to go to war than watch someone go to war."
Watch the Segment Here: